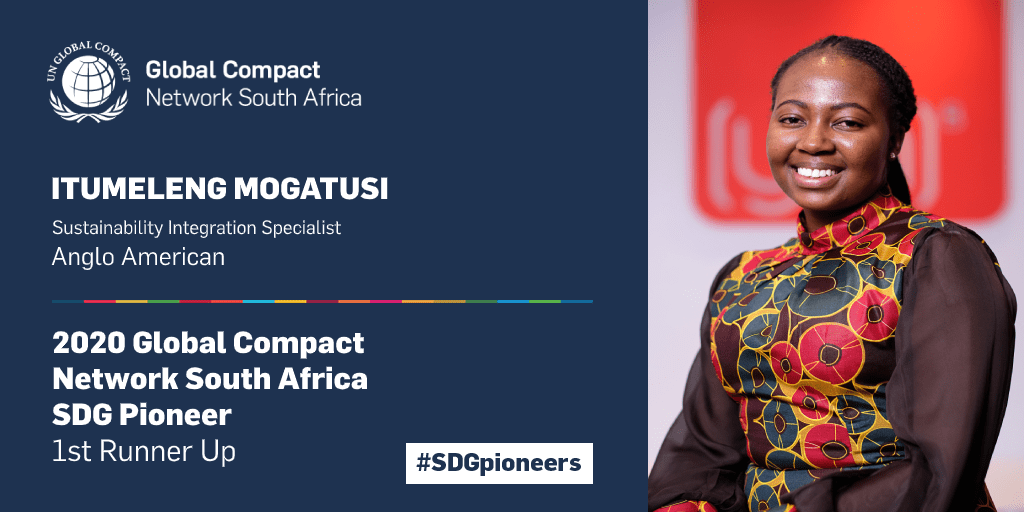 1st Runner Up Of Global Compact Network South Africa SDG Pioneer 2020
Sustainability Integration Specialist
Anglo American
Itumeleng Mogatusi was part of the 2019 UN Global Compact Young SDG Innovators Anglo American team and has since took her team's proposed project of reducing Mineral waste from Anglo's mining operations to the pilot phase. The pilot is to run a digital ecosystem that brings together, host communities, government, universities, companies that use Slug material and an ingredient for cement, and 22 other uses in the construction industry. Since the company produces about 550million tons of Slug material every year and it is stockpiled, the pilot will determine how they can create jobs for communities to supply Slug to the construction industry while they begin to reduce liability costs to the business. She is currently the head of the pilot working with the circular economy and business development team. As soon as the pilot is complete, the project will be applied across the companies' mining operations.
She has led the innovation of a digital ecosystem called REVIVIFY, harnessing collaboration to create better livelihoods opportunities for or host communities, and has been an important figure in integrating the UN Global Compact Ten Principles and the Sustainable Development Goals as part of her role as the Sustainability Integration Specialist is to integrate the Anglo-American sustainable mine plan which has the 10 principles embedded into it. across the organization. this is done by leading operations to develop 5-year plans with initiatives that will achieve the organisation's plan but also embed the 10 principles.
Itumeleng has also been instrumental in identifying new ways to engage internal and external stakeholders to support the SDGs as she has been supporting a biweekly conversation on sustainability for one of the company's business units called brown bag talks. the aim of brown-bag talks is to invite professionals outside of the mining industry to share and exchange knowledge on sustainability topics.
As part of the COVID response and her role in the organisation, they were able to supply food vouchers to vulnerable members of host communities especially the elderly and child-headed homes. The local community clinics and hospitals were supported with medical equipment and PPE, a program called WE CARE was established that partners with universities and government and they were able to deploy health care workers to test within the communities. Labs were set up across the communities to support backlog and overflow for public services. Employees worked from home to ensure safe social distancing.