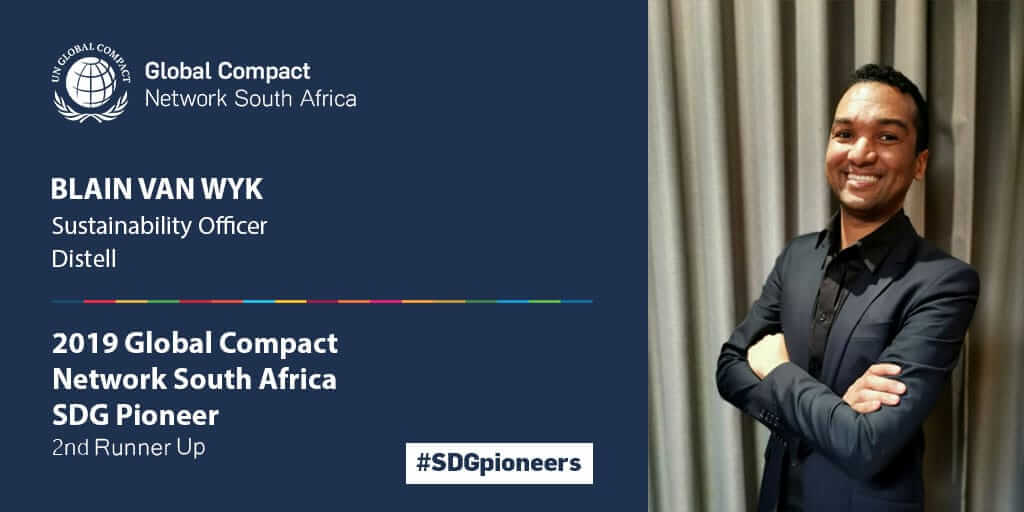 2nd Runner Up Of Global Compact Network South Africa SDG Pioneer 2019
Sustainability Officer
Distell South Africa
Blain Van Wyk is currently working at Distell in Corporate Affairs and Sustainability with a focus on shared value. He is an alumnus of Cambridge University's Sustainability Practitioner Programme, which has broadened his knowledge around sustainability and embedded the importance of role of the SDGs in business as a solution to our planet's problems. Immediately after the completion of the course and together with a colleague who attended the course with him, Blain presented to senior management on their learnings and why incorporating the SDGs into the business strategy would be key to the success of the company. He also reached out to his internal network, raising awareness and sensitising them to embrace and support the SDGs.
Earlier this year, Blain attended the Effective Stakeholder Management course (University of Pretoria) and it is evident to him that developing and maintaining multi- stakeholder partnerships (SDG 17) is critical to the success of the SDGs. He has used the knowledge he gained during the course to assist the Stellenbosch River Collaborative (SDG 6) programme, a stakeholder identification and analysis model. The Stellenbosch River Collaborative is an initiative that that brings together various stakeholders including NPOs and NGOs, government agencies, conservation and community-based organisations, industry and academic institutions to address the problems around degraded ecosystems and unsustainable livelihoods.
Distell's Bansela Taverner Training Programme, currently under a pilot period, falls under Blain's area of responsibility. It is aimed at improving the business skills of selected Main Market on and Off Premise retailers (majority of whom are black women) with the intent of building long term sustainable businesses and to enhance Distell's business reputation within the communities it operates in. This programme touches on a few SDGs: 4 on Education, 5 on Gender Equality, and 8 on Decent Work and Economic Growth.
Last year, Blain delivered a 3-minute pitch to management on the negative effects of plastic on the environment and why Distell should start an initiative around recycling, which led to the company taking initiative to try and address plastic pollution. Soon the Distell Khayelitsha Recycling Programme will fall under his responsibility. This is a partnership between Distell and Trashback to empower entrepreneurship through waste in Khayelitsha.
The ultimate aim is to have long-term sustainable waste beneficiation operation in Khayelitsha that captures and processes post-consumer plastic/glass waste in a way that integrates with existing operations and creates local income/job opportunities and restoring dignity of those that work in the waste sector (SDG 8 on Decent Work & Economic GRWOTH and SDG 12 on Responsible Consumption & Production). Through this programme, Distell will empower the surrounding communities through environmental and basic business education, waste beneficiation infrastructure, job creation & Social Entrepreneurship opportunities. This programme also speaks to the Ten Principles of the UN Global Compact, specifically Principle 8 on Environmental Protection.