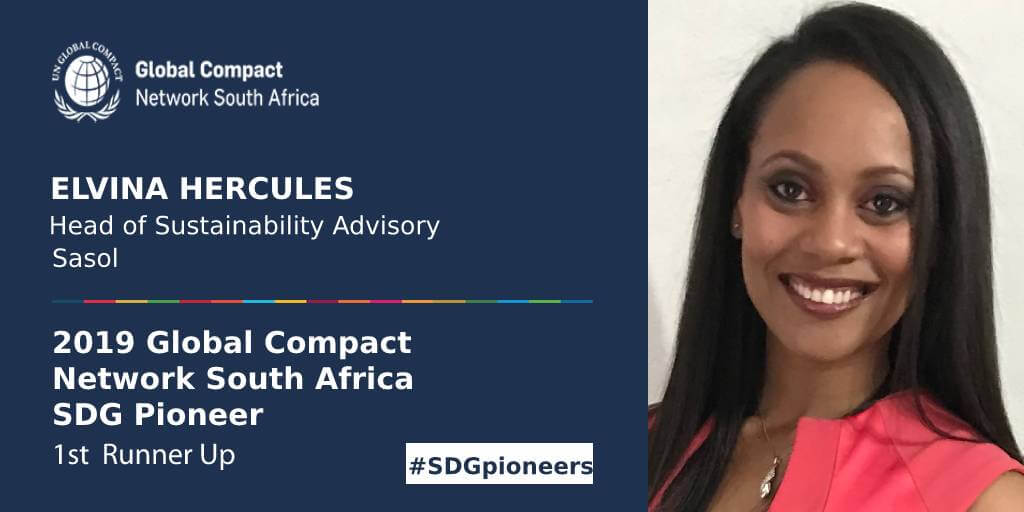 1st Runner Up Of Global Compact Network South Africa SDG Pioneer 2019
Head of Sustainability Advisory
Sasol South Africa
Elvina is responsible for the development, optimisation and the quality of Sasol's ESG and sustainability disclosures. This affords her the opportunity to understand where the company goes as Sasol is excelling at their sustainability efforts; and to identify its areas of improvement. Consequently, her work informs management decision making on a strategic level and assists in directing Sasol's choices for generating value for society and contributing toward building a sustainable future.
Advancing the SDGs at Sasol
While Sasol has been a signatory to the UN Global Compact since 2002, Elvina's journey with sustainability began in 2008 when she started at the Sasol SHE Centre, with the hope of getting to grips with South Africa's challenges; and through her work at Sasol, try and make a positive contribution to the environment, economy and to society. Elvina advanced her education with an MPhil: Environmental Management to gain a better understanding of society's environmental and sustainability challenges (particularly the MDGs at the time) enabling her to transfer academic knowledge and best practice into her sphere of influence and more broadly at Sasol.
More recently, through the knowledge gained in her MBA and the adoption of the SDGs worldwide, Elvina's work has been focused on integrating and prioritising the SDGs that Sasol is contributing towards. As one of South Africa's larger organisations, Sasol plays a significant role in its partnerships with government, labour, communities and investors in achieving the SDGs both nationally and globally. However, being such a complex organisation with many moving parts, it was difficult to determine where to start. Therefore, Elvina and colleagues embarked on an 18-month project to map and identify all the initiatives across Sasol that contribute to the SDGs in various ways.
As the Lead for this project, her objectives are to ensure that Sasol has a thorough understanding of the magnitude of its contribution to the 17 SDGs and identify the areas that can achieve better results by leveraging Sasol's strategic competencies and its sphere of influence.
The outcomes of this project will inform strategic decision making, thereby utilising the SDGs as a lens for Sasol and enabling short, medium and long-term planning.
Integrating the UN Global Compact's 10 Principles as the company contact manager for Sasol, Elvina is responsible for compiling and submitting the annual communication on progress (COP) for Sasol. This affords her the opportunity to "hold up the mirror" to the organisation and ask the relevant questions regarding the company's policies and activities in adopting and applying the 10 principles within its operations. This process facilitates honest and frank conversations within the organisation and enables management to apply its collective mind to the manner in which Sasol generates value within society.
Raising awareness and mobilising her network Through the SDG Mapping project, Elvina is empowered to collaborate with various internal and external stakeholders facilitating open dialogue between other signatory companies, business organisations and Sasol service providers who support them in the project. As a result of her experience and knowledge, she has been able to transfer best practices regarding the SDGs into the company's supply chain, strategy, human resources, finance, risk and safety, health and environmental functions. Elvina's mission within her role, is to share the benefits of achieving the SDGs within Sasol, and to develop the relationships internally and externally that will make such an achievement a reality.