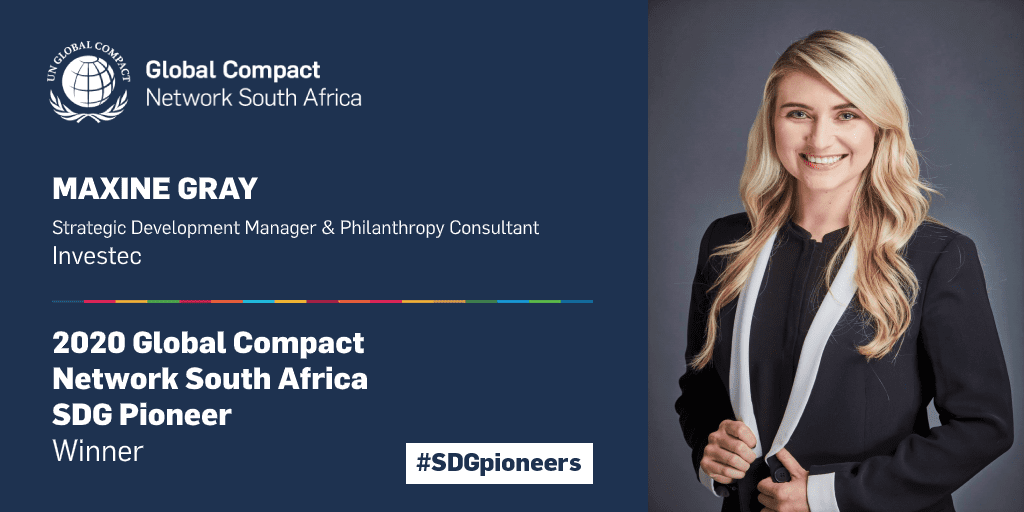 2020 Winner Of Global Compact Network South Africa SDG Pioneer
Strategic Development Manager & Philanthropy Consultant
Investec
Maxine was first introduced to the SDGs in 2018 at the One Young World summit in the Hague, Netherlands and directly connected to SDG 4 based on an innate belief that, 'Education is the most powerful weapon which you can use to change the world', in the words of Nelson Mandela. Formative year education (ECD) is a priority of a non-profit organisation, imagine.nation that she has been part of since 2015 through which we have built two creches in an informal settlement in Johannesburg and continue to develop its second site, Boitshepo. She also founded a Winter Warmer project in 2010 which she has driven for the past 10 years, together with her team and various partnerships. Since 2010, they have delivered over 22 000 blankets, beanies, and scarves to communities in need across South Africa. Maxine was named One Young World Ambassador of the month in April 2018, with the Winter Warmer being featured in the 2019 One Young World impact report with a SROI of 1:12 (linked to SDG 1).
The evolution of her SDG journey came with an opportunity to be part of the Investec cohort of young innovators enrolling in the 2019 UN Global Compact Young SDG Innovators Programme. Through this programme, she was empowered with the knowledge gained on sustainable business, innovation and the SDGs fuelling her passion and drive to build a sustainable future further.
Recognising that to achieve the 2030 goals we would fundamentally need to shift mindsets and thus change behaviour, she and her team decided that their solution design would be centered not on one SDG in specific but rather on finding ways to bring the SDGs into the design, processes, products, strategy, and conversation of Investec's business areas wherever possible.
This has started to come to life through hard work, a fierce commitment to the 2030 Agenda for Sustainable Development and networks of incredible people who have been true partners in providing opportunities to turn inspiration into action. Some areas of work aligned to this include:
Philanthropy: in her capacity as a Philanthropy consultant working with Private Client charitable foundations, Maxine aims to connect the significant work done within the NGO sector, through Philanthropy to the SDGs. First through engaging in conversations with beneficiary organisations regarding mapping their impact to the SDGs. As such, she wrote an article on 'Building a cycle of Sustainable Development' which was published in the 2020 Annual IPASA (Independent Philanthropy Association of South Africa) Review. As well as through providing insight into sustainable investing for Foundations through speaking at the 2020 Annual IPASA Symposium and through a co-authored article in the IPASA December newsletter.
Strategic Development: within her role in developing and driving the implementation of business strategy within Investec Wealth & Investment SA, she endeavour to connect existing initiatives with the SDGs, elevate the inclusion of sustainable development into the core of Investec's strategic drivers, and elevate the level of 'SDG knowledge' with others. This includes curating and creating content, 'bringing the SDGs to the table' whenever there is an opportunity to do so and by focusing on:
Learning & development: She has provided CPD accredited training to her business unit on the 10 principles of the UNGC, the SDGs and a Breakthrough mindset.
Sustainable Investing: as part of the team within Investec Wealth & Investment SA launching a Global Sustainable Equity Fund which is directly linked to the SDGs, her focus has been on developing an SDG educational launch campaign (set to go live in 2021) comprised of an immersive media campaign as well as an educational article series profiling an SDG of the month as well as a macroeconomic piece centered in sustainability. The campaign reach is global, aligned to Investec's key geographies (South Africa and the UK), internal to all Investec staff as well as external to clients and prospective clients.
Behavioural Finance and the SDGs: Maxine has recorded a podcast episode with New York Times best selling author, Psychologist and Behavioural Finance expert, Dr Daniel Crosby titled 'Investing Sustainably' centered around the SDGs. The episode is part of the 'Standard Deviations' podcast which has an expansive global following across a variety of sectors.
Social Media: realising that many of her social media connections weren't aware of the SDGs, She started an 'SDG of the week' initiative to bring concise and contextual information on each SDG through social media channels (Instagram and LinkedIn) including tips on how individuals could take action on the SDGs that resonate with them.
Behavioural change and a mindset shift are imperative to moving forward from past systems and ways of working, living, and thinking to build a better, and more sustainable future. It starts not by telling people that they need to change but by inspiring a self-driven realisation of this and then enabling them with the information, and framework to act on it. By harnessing our ability to innovate, connecting our humanity and innate desire to live a meaningful, purposeful life with a tangible north star for the future – the Sustainable Development Goals – we can build back better.
She plans to continue to endeavour to plant seeds of sustainable development, to inspire and empower others by sharing the knowledge she gains, and to be an active catalyst for change aligned to achieving the SDGs. "By connecting the invisible dots, igniting a passion in others through living out my own, and acting on a continuous commitment to change, we can make the impossible, increasingly possible" wrote Maxine.