New York, United States of America
Executive Director and CEO of the United Nations Global Compact Sanda Ojiambo traveled to South Africa from 15-20 April 2023.
The purpose of her visit aligned with the United Nations Global Compact Africa Strategy and two critical initiatives that support its implementation — the African Business Leaders Coalition (ABLC) and the Global Africa Business Initiative (GABI). The ABLC is a CEO-led coalition committed to advancing sustainable growth, prosperity and development across the continent. GABI is an annual conference that seeks to elevate Africa's presence on the global stage by charting a sustainable, inclusive, and just roadmap for the continent, led by Africans for Africans.
The invaluable contributions of our colleagues at Global Compact Network South Africa, those leading the UN Global Compact Africa Regional Hub and the unwavering support of our colleagues at the UN Information Centre (UNIC) were critical to the mission's success.
Building on private sector collaboration, Ojiambo met with a wide range of business executives and industry leaders, including leadership at the Johannesburg Stock Exchange.
Building partnerships for sustainable growth in South Africa
Ojiambo spoke on 16 April at the 2023 African Continental Free Trade Area (AfCFTA) Business Forum, which aims to accelerate intra-African trade and boost Africa's trading position in the global market. She represented the UN system and reiterated the commitment of the UN Global Compact to the ambitions of the AfCFTA.
Multiple UN agencies, including a partnership between the AfCFTA Secretariat and UNDP, are working to accelerate the promotion of trade as a stimulus to Africa's socioeconomic recovery from COVID-19 and sustainable development for women and youth.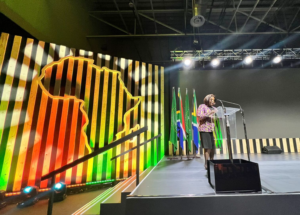 Ojiambo attended a CEO dinner co-hosted by UN Resident Coordinator Nelson Muffuh. The event was attended by a number of prominent business leaders and executives including Achieng Ojwang, Executive Director of Global Compact Network South Africa; Phuthi Mahanyele-Dabengwa, CEO of South African multinational technology holding company Naspers; Patricia Obozuwa, Vice President of Public Affairs, Communications & Sustainability for Coca-Cola in Africa; and Alex Nyingi, Emerging Markets Public Affairs Manager at Google, among others.
Participants discussed the tremendous potential for growth in South Africa and how the nation is leading the way towards energy access and a low-carbon economy. Furthermore, South Africa has a youthful population, where digital ecosystems have become more resilient and inclusive, enabling greater participation by women and more opportunities for small businesses and marginalized communities.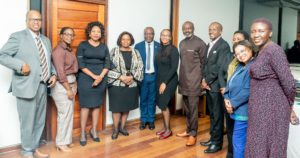 The UN South Africa Country Team welcomed Ojiambo on 19 April. They discussed the critical avenues to enhance economic growth within the African private sector. Platforms, including GABI and its yearly gathering, are critical.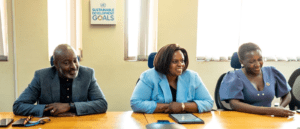 Ojiambo also met with Mondli Gungubele, Minister of Communications and Digital Technologies for the Government of South Africa. Their discussion focused on how to drive investment in digital transformation, provide education and training in South Africa and foster inclusive growth for the nation's youth.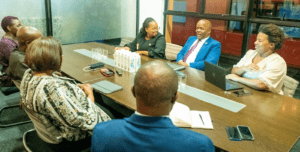 On 20 April, Ojiambo participated in a meeting with Phuthi Mahanyele-Dabengwa, Chief Executive Officer of Naspers and recently appointed Board Member of Global Compact Network South Africa. They discussed the importance of the ABLC, Mahanyele-Dabengwa's role as Co-Chair of the ABLC and the ABLC's focus on climate.
Sharing our vision: CEO interviews with media in South Africa 
Numerous news organizations interviewed Ojiambo during her trip, including SABC Economics, South Africa FM and Radio Ubuntu. In her interviews with prominent journalists, Ojiambo provided additional context on essential topics such as the Sustainable Development Goals, the Ten Principles of the UN Global Compact, the AfCFTA agreement and GABI.