Since 2019, Global Compact Network South Africa has each year mentored and graduated several young professionals with implementable innovations based on Sustainable Development Goals. The Young Professionals are selected by their companies to engage in a 9-month design thinking process and come up with innovations that are implementable, scalable and have the potential for positive impact for the business and for society.
On Friday 2 December, the Young SDG Innovators gathered at a conference at the Gordon Institute of Business Science, to showcase some of these solutions.
The conference saw attendance from the 2021 & 2022 Young SDG Innovators Programme (YSIP) alumni and the GIBS Festival of Ideas alumni as well as entrepreneurs, representatives of the business community, individuals from various organisations, students, and academics. Among the key speakers were Dr Bannet Ndyanabangi, the UNFPA Representative in South Africa and Dr Achieng Ojwang, Executive Director of the Global Compact Network South Africa.
The conference included panel discussions and team presentations from various companies including Bidvest Services, Public Investment Corporation, Anglo American, Naspers, Igwele, Urglobal, Eskom, Exxaro, Anglo Platinum, Nedbank, De Beers Group, Alex Forbes, Merchants, Sibanye-Stillwater and Redefine Properties. Some of the key topics discussed during the conference included the importance of inclusion & gender equality in innovation, the role business can play in advancing social entrepreneurship, how innovation can accelerate the advancement of climate change policies, and the importance of intrapreneurship amongst other relevant topics.
YSIP Programme Facilitator, Maanda Rashaka believes that the YSIP programme is valuable for both business and society. "There is ample opportunity for business to help solve for sustainability in a profitable manner, YSIP is a demonstration of that. The learnings from YSIP need to be applied widely and both business and society will benefit. The model also holds great potential to unlock the informal economy and youth jobs,'' says Rashaka.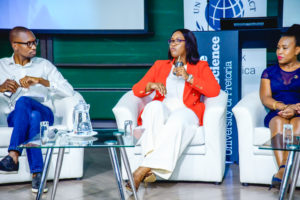 The YSIP programme is a great success and impactful to both business and communities. This has been demonstrated by the many solutions put forward by the innovators and the interest by several of the participating companies to finance and implement these SDG solutions.
"For GCNSA, the success of YSIP is an acknowledgement of the value and relevance of the Global Compact in South Africa on one hand, and a challenge to intervene more by scaling up the programme to reach other young people interested in innovations and entrepreneurship- beyond the realm of participating companies," says Dr Achieng Ojwang, the Executive Director for GCNSA.
"It is in our interest to be as inclusive as possible, to incubate innovative models and designs, then use these at scale to create value for society. The SDGs are an important challenge board, and young professionals have been able to interrogate these societal challenges then categorically think through the stages and come up with viable solutions," added Dr Ojwang.
The Young SDG Innovators Programme, now renamed the SDG Innovation Accelerator for Young Professionals, is designed to engage companies' brightest talent in not only advancing sustainability efforts but driving innovation and delivering tangible solutions with potential market value for companies.
To explore participation in the SDG Innovation Accelerator for Young Professionals, please visit: https://www.unglobalcompact.org/take-action/sdg-innovation-accelerator